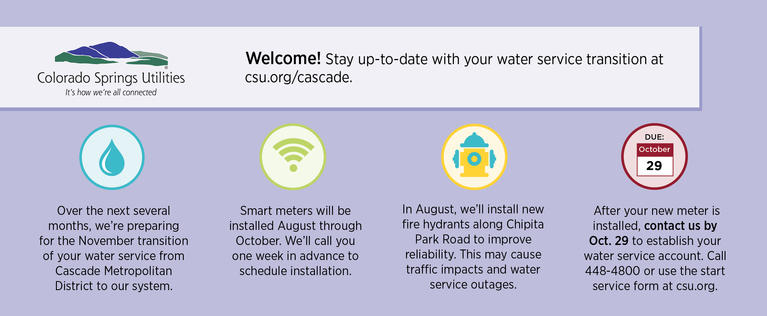 CLICK HERE for the latest information on the Cascade MD water transition to CSU!
JANUARY 2021 UPDATE: CLICK HERE FOR FREQUENTLY ASKED QUESTIONS
April 6, 2020 Update: The Board of the Cascade Metropolitan District No. 1 is committed to completing the turnover of the District's water system to Colorado Springs Utilities.  In order to be as transparent as possible, please see below some of the frequently asked questions we have been hearing.
Is our District (CMD) water system going to be turned over to Colorado Springs Utilities (CSU)?  Why?
Yes, CMD will be turning over the water system distribution to our current bulk water provider CSU.
On 2015, the CMD Board and CSU entered into an agreement to transfer aging and costly to maintain water system to CSU.  For this to occur, CMD agreed to upgrade our water system to their standards and get our water loss below 20% (the water losses have averaged over 40% since 2015).  In 2018, and 2019 CMD upgraded our water system and reduced our water loss from a high of 70% to below 10%
When will the turnover occur?
The plan is for the turnover to occur mid to late fall 2020.
What do I need to do?  Will Colorado Springs Utilities contact me?
CMD and CSU are working on the conversion now.  CSU is ordering new meters and other materials.  CSU plans on starting meter exchanges the 2nd quarter of 2020.  CSU will take over CMD's water system the 4thquarter of 2020.
CMD will be in touch with you in the spring of 2020 to update your service agreement with the District to allow CSU to operate the system. 
Every water meter will need to be exchanged to CSU's meter.  At the time of the meter exchange the customer will need to provide access to the water meter or to your home to allow CSU to place their water meter in the homes or businesses.
Will our water bill go down?
CSU is working on what Cascade water users will be charged.  This is the monthly operations charge and the water consumption fees. 
Will the Debt Service Fee of $78.00 go away when CSU takes over the water system?
No.  The Debt Service Fee is to pay for the reconstruction of our water system.  CSU would not take over our old system until we lowered the water loss below 20%.  CSU will not take on our outstanding debt  We will have to pay the debt separate of CSU's water bill.  The plan is to continue to bill this on a monthly basis.
Please check back often, we will update our information as we receive more detailed dates and times from Colorado Springs Utilities.  Please contact our District Manager, Kevin Walker at Walker Schooler District Managers at (719) 447-1777 if you have any further questions.